If you aren't aware of the Open Source Initiative (OSI), you should be. They are fantastic not-for-profit organization responsible for the Open Source Definition (which everyone should read once in their lives), they maintain a a list of compliant license definitions on top of promoting open source across the world.
They are also membership driven organization, which is supported by individuals and affiliates. As far as I know, they are the only organization that brings together a variety of open source individuals/institutions to cross-promote ways to work together improve the adoption of open source software: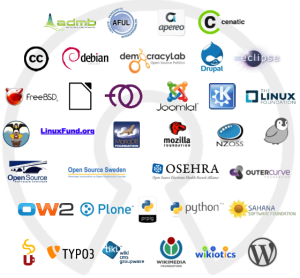 They are also in the last month of their membership drive, so if you're interested in supporting their cause, I highly recommend you consider joining as a member:
#opensource spans the globe—as does our membership. We're in last 30 days of our member drive http://t.co/z0t21MsJrh pic.twitter.com/8nkzPx7TwG

— OpenSourceInitiative (@OpenSourceOrg) March 1, 2015
Also more selfishly, the OSI currently has nominations open for the board of director election which I'm partaking in. The current group of nominations include a great group of folks from all over the open source ecosystem and I'd love to have the opportunity to serve, my plans include expanding corporate membership and more.
So please consider supporting the OSI and vote your interests, they really make the greater open source community a better place.