Yesterday, I participcated in the Austin Marathon which happened to be on Valentine's Day.

The weather was beautiful in the morning, albeit chilly for Austin. I had a great start, hitting the 5K mark at about 22:27 with the 3:10 pace group. I continued on and hit the 10 mile mark at 1:12:21 with the 3:10 pace group. Just before the half marathon mark, I had to take a pit stop due to some stomach issues and tried to catch up to the 3:10 pace group. The pit stop was longer than I wanted it to be as I ended up crossing the half marathon mark at about 1:35:46 which was slightly behind my goal pace. I kept trying to chase the 3:10 group but couldn't catch it after my pit stop. I crossed the 20 mile mark at about 2:30:03 which in my definition, equates to dragging ass. I managed to finish the marathon in 3:21:50…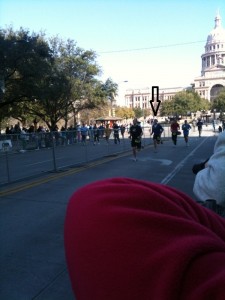 My goal was 3:10 but I obviously missed it this time around. My stomach never felt the same after the pit stop and I had trouble catching up. If I take any lessons from this race, it's to avoid pit stops at all costs. It breaks your rhythm.
My next marathon will be the Chicago Marathon where I will run a sub 3:10 🙂