Hrmm, one of my favorite HTML text editors, FCKEditor, got re-branded.

It's now known as CKEditor.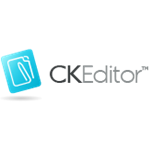 Wonder why they changed the name :)?
On a side note, they have an impressive licensing scheme.
CKEditor is distributed under the GPL, LGPL and MPL open source licenses. This triple copyleft licensing model avoids incompatibility with other open source licenses…
For commercial usage, they have the CKSource Closed Distribution License.
For many companies and products, Open Source licenses are not an option. This is why the CKSource Closed Distribution License (CDL) has been introduced. It is a non-copyleft license which gives companies complete freedom when integrating CKEditor into their products and web sites…
Fun.