I had a colleague of mine recently come to me and ask how to travel more optimally given that he's taken a consulting job, that you guessed it, involves about one hundred percent travel. I'm coming close to breaking about 1,000,000 air miles so I figure I would share some wisdom I acquired over the years regarding traveling.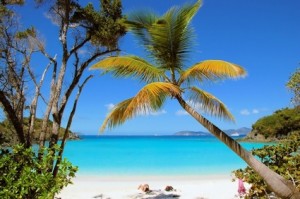 Airlines
The first and foremost thing you need to do is get status on an airline and choose an airline alliance. It makes a world of a difference when traveling, from free upgrades to just saving you time at the airport (e.g., quicker lines). I fly American Airlines (AA) which is part of the oneworld alliance whenever I can. To help you get status, some airlines have "challenge" programs like AA which helps getting some level of status easier. For example, I can do the platinum challenge on AA and get platinum status with only flying 10,000 miles versus the usual 50,000. I highly recommend browsing the Flyertalk forums and FlyerGuide wiki to see if your airline has a program. Another option is to do a "mileage run" which allows you to get status by flying a route to get the most miles for the lowest price. It's a bit crazier than the challenge route but hey, you can always turn a mileage run into a vacation 🙂
Most airlines also allow you to fly standby on earlier (or even later) flights at NO COST. As a frequent traveler, this is something you can take advantage of to get home earlier or get somewhere later.
In terms of managing your itineraries I recommend a service like Tripit.com to keep things in one place. Also, there are services like Kayak.com that help you search for cheaper flights across airlines if price is an issue for you. For more advanced users, you can check out ITA Software's search which powers a lot of what the airlines use for their booking systems.
Also, if you're interested in how much miles a route will be, I tend to use the Great Circle Mapper to get a good estimate. For example, if I was going to go to Frankfurt from Austin with a stopover in Dallas, I would get a map like this…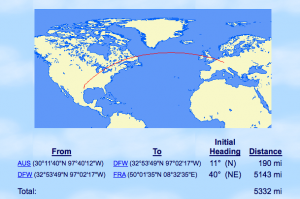 Airplanes
If you fly a lot, having a good seat is important. If you're a techie, it's also important to have a seat with power so you can use your laptop in the comfort of your seat. I use the website SeatGuru to find out information about the variety of planes there.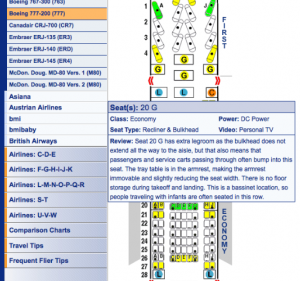 Remember green seats are good!
Baggage
Never check in your bags. Period.
Airports
Airline lounges are key if you're stuck in an airport for a long time. One thing to note is that if you have an American Express Platinum card, it gives you access to pretty much any airline lounge out there. In the oneworld alliance, I've found the best lounges to be from Qantas and British Airways. Depending on the airline alliance you choose, feel free to browse other airline's lounges within your alliance (they usually let you).
I also recommend that you have hotel reservation lines on speed dial. On top of that, I have some specific airport hotels (Chicago Hilton and DFW Hyatt) on speed dial in case I'm stranded at an airport. If there's really bad weather, chances are everyone wants to stay at the closest hotel available. Don't be the guy that gets to sleep at the airport because you weren't savvy enough to get a reservation.
Hotels
For hotels, just like airlines you should choose an alliance as you'll get better benefits that way and more rewards. There's lots of options to choose from, but I highly recommend staying with the Starwood or Hilton set of hotels. They tend to have the most hotels available worldwide and when it comes to cash in reward points, they make for nice vacation lodging.
Cars
To keep up with the mantra of picking an alliance, in rental car land it's important to just stick with a brand. There's quite a bit to choose from but I recommend using Hertz or Avis as they are the stronger brands out there. I've heard good things about National and used them for a recent ski trip but I've had no issues as a long time Hertz user.
Summary
So if I was going to summarize my advice, I say that choosing an alliance for both an airline and hotel is the most important thing you can do to make your travel easier. Other than that, enjoy your time in the sky.
Anyone else have some good travel tips?