Yesterday, I participated in the inaugural Dirty Du Half Marathon out in Smithville, Texas. Its been raining the past couple days so the morning started out wet and cloudy. The drive to Smithville is only about an hour from downtown Austin. Upon arrival, I noticed the course was going to be pretty muddy given the condition of the start line field.
The race organizers cautioned us that the course may be a bit muddy due to the weather with some potential deep streams to cross. I expected a muddy course with some streams to jump. What I didn't expect was 13.1 miles of muddy trail perfection. I ended up sloshing through 24 inch deep streams, loose mud and slippery hills.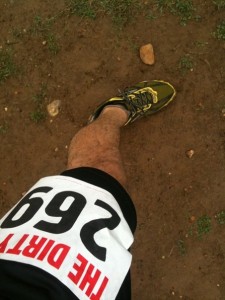 The race was never boring and I came out the other end covered in mud. In fact this was the most enjoyable trail race I've ever run due to the great course and mix of perfect muddy conditions. I managed to finish the race 4th overall (3rd in my gender group) with a time of 1:51ish. My prize?
A New Belgium beer glass and box of delicious mountain mix Cliff Mojo bars.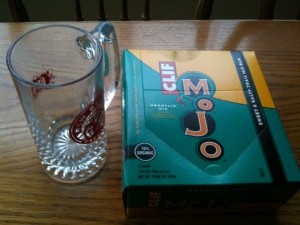 I feel sorry for the mountain bikers who had to wade through that course this morning. It's interesting to note Lance Armstrong holds the mountain bike course record with an impressive time of 1:36:05! I don't think that record will be broken this morning given the dirty conditions. In the end, I want to thank the race organizers for putting on a great event. I hope that the trail half marathon shows up on the agenda again next year and that more people show up. Don't let a little rain scare you from good time.