Last Saturday, I trekked out from Austin to Lake Houston Wilderness Park for the Piney Woods 10mi Trial Run. Nothing like a three-four hour drive leaving Austin in the middle of the night to run a trail race.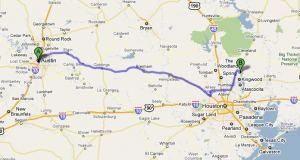 It was a cold and muddy day sloshing through the trails. I had a great start to the race and jumped out in front to hang out to second place most of the race. The mix of single track and stretches of road was fantastic, the course was never boring. The only mishap I had was towards the last half mile of the race where the trail was poorly marked and I choose the wrong turn. I had to pedal back and that's where a couple of people caught up to me and then I wiped out pretty badly on the trail while fuming about the poor trail marking.
I managed to finish the race in 1:14 and finished first in my age group. I came out of the trails pretty much covered in mud… my socks were no longer white but a dark shade of gray…
After the race, everyone bunched around the fire pit to get some warmth and also to chow down on some BBQ and beer. The BBQ was excellent and the race organizers did an excellent job supplying the attendees with unlimited BBQ and beer.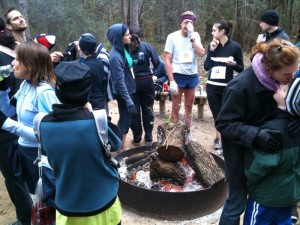 In the end, it was a fun race and I hope they put it on again next year. My only advice is that if there's a split on the trail, please take extra caution in labeling where to go for us runners who get tunnel vision sometimes 🙂