Just to let you know, the Eclipse Summit Europe 2010 call for participation is closing soon.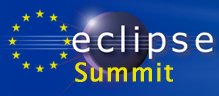 I highly recommend attending and submitting a talk if you haven't already. I'm excited and looking forward to the conference. The timing will coincide close with the EGit and JGit 1.0 release so we should have some potential milestone builds for people to try by then. My hope is that we are in position to have the majority of the Eclipse.org community move to Git by the end of the year.
On a side note, EclipseCon 2011 planning is starting up so I plan on announcing the Program Committee in the coming weeks. Stay tuned for details!