Last weekend, along with 21,000 other people, I participated in the San Francisco Marathon.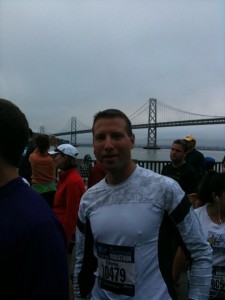 It was a scenic race, albeit a cold one for me since I'm used to running in 100 degree weather in Austin, Texas. I don't know why people are crazy about SF weather… it's cold and foggy almost all the time 😉
I ran the half marathon distance because I wanted to be useful next week and I had a bunch of friends running that distance also. I was suppose to start in the first wave, however, I decided to start in the last wave as that's what I was peer pressured into. It was the first time I started a race all the way in the back so the view was interesting.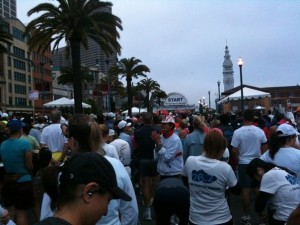 When the wave started, we were moving at a very slow pace since things were congested. After about 5 minutes, things opened up a bit near the marina district in San Francisco so I decided to take off. I then hit the Golden Gate bridge which turned out to be a gigantic traffic jam.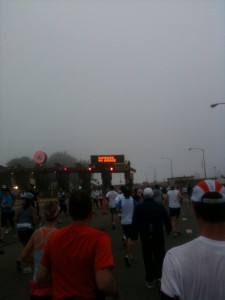 It was like running a single-track trail race… very difficult to pass people but kind of fun in a strange way as you invent ways to pass people without running into someone else.
In the end with all the people dodging, I ran the half marathon in 1:36:

This weekend I have a 60k trail race coming up, Capt'n Karl's 2nd Annual All Nighter! All I know is that it starts Friday at 7pm… and that they start the 30k racers at 7:30am on Saturday. I guess that means we have at least 12 hours to finish the race 😉