Yesterday, I had the pleasure to participate in the Rock n' Roll San Antonio Half Marathon. It was a foggy morning and more than 20,000 runners showed up! Since I like to play with numbers occasionally, an interesting thing to note is that of the runners that participated, roughly 70% were women. Is that a trend that I missed somewhere? I thought there would be a more even split.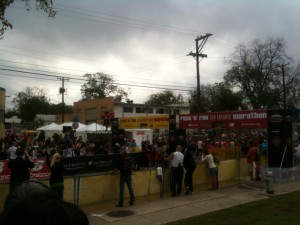 I enjoyed running the half marathon given that there was music about every mile. I didn't get a PR but I'll settle for my 1:35:52 time. As an ode to my computer science background, I managed to finish 256th overall. Here are my stats for the day:
Chip Time: 1:35:52
Overall Place: 256 / 20021
Gender Place: 217 / 7436
Division Place: 32 / 971
Pace: 7:19
5K: 21:31
10K: 43:21
15K: 1:07:02
The post race festivities were a bit ridiculous given the 20,000+ people surrounding the Alamodome.
I wonder if it makes sense to put a limit on how many people can attend an event.