I spent the last week in sunny California for business. While I was there, I got a kick out of running with my Texas running socks. I don't know why, maybe it's the part of me that just loves Texas a lot more than California these days.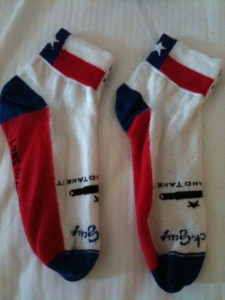 If you need pair of custom running socks, the Sock Guy does it right.
Anyways, I think I'm finally getting over my knee issues while running. I can't go full out yet but I'm getting there. It's a terrible feeling to know that you can push your body harder but your body is saying, no, not yet. I'm going to put my knee to the test this weekend when I do a 30K trail race as part of the Rogue Trail Series.
Here's to no more excruciating knee pain!